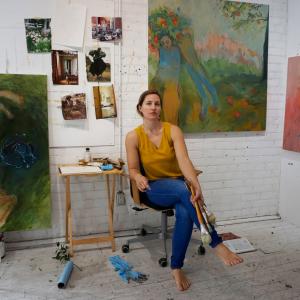 Vanessa McKernan
Artist member since 2018
Toronto , Ontario
Vanessa McKernan's paintings begin with a focus on the narration of a dream, fantasy, memory or experience. Portrayed through exaggerated gesture and broken posture, the figures in her work grapple with the fragility of their existence in an increasingly socially and physically unstable world. McKernan holds a BFA in Studio Art from Concordia University and works out of a studio located in Toronto's historic distillery district.
---
How long have you been creating art?
I would say I started seriously making art 16 years ago when I was at Concordia University doing my BFA. It took me about 10 years from when I started to get to a place where the majority of my week was spent in the studio. And though during those years I was frustrated by having to do other work, I see now how valuable all the parts of that journey were.
Your favourite spot in Toronto right now
The Brickworks
What do you listen to when you work?
Podcast junkie!
What artists do you admire right now?
Lately I've been really into artists like Janet Werner and Tina Berning who look at fashion and the body in really different but interesting ways
When I'm not making art, I'm (a) ...
Graphic designer and mother of a 2 year old
I'm really good at making (a) ...
Sourdough bread
Select Past Exhibitions
2018
Wallspace Gallery, Ottawa
Ten
2018
ARTA Gallery, Toronto
Wonderous Ways
2018
Better Living Centre, Toronto
The Artist Project Contemporary Art Fair
2017
Gallery 555, Toronto
Day Trip
2017
Partial Gallery Pop-Up, Toronto
Layers; Women Artists of Our City
2016
Nathan Phillips Square, Toronto
Toronto Outdoor Art Exhibition
2015
Better Living Centre, Toronto
The Artist Project Contemporary Art Fair
2015
Earls Court Gallery, Hamilton
Fragments
2014
MakeWorks studio, Toronto
Bean Art Exhibition
2014
Ben Navee Gallery, Toronto
Piano Children
Accolades
2015
The Artist Project, TYPE Competition
Third Place Winner
2006
Concordia University, Cecil Buller John J.A. Murphy Scholarship
Annual Scholarship
Press
2014
Descant Magazine: Issue 163
The Dead, the divine and the in-between
2013
Now What Podcast
Taking the Leap; An interview with Vanessa McKernan
Residencies
San Jose, Costa Rica
The Julia and David White Artist Residency
Education
2006
Concordia University
BFA
SHARE THIS ARTIST
What do you mean, "try"?
Try-before-you-buy with a 3 month rental. 100% of your rental payments go towards the purchase (interest free). Message the artist directly, and start the conversation.
---
Art made (truly) affordable
We make it easy for you to try art with smart payment plans and try-before-you-buy models.
See How It Works
---
You're covered.
Artwork protection is included on all art rentals up to $5K. Our Customer Care team is always here to help.
Contact Us
---
Unlock Trade Access
For industries including interior design, film/TV production, & real estate staging: rent original pieces that fit with your project vision, budget and timeline.
Apply for Trade Access
---
1% from every transaction goes towards SKETCH WORKING ARTS.